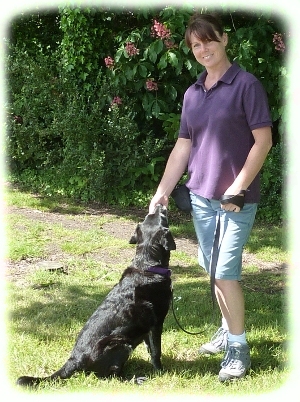 Hi There!
I'm Natalie Joy and Dogs-N-Joy is my dog walking and visit service covering the Ferndown, Merley, Bear Cross / Bear Wood and Kinson area.
I have always been around dogs since a child and have grown to love them all very much. My much-missed Labrador, Megan, who is pictured on this site, lived until she was 16 years old. We also rescued Glenn, a Border Collie, who spent his last four happy years with us.

I believe that they are your best friend and they are always there to cheer you up and greet you when you get home after a long day. They are and should always be a big part of the family.

Busy lifestyles, demanding jobs, family commitments or illness can unfortunately take you away from your much loved pets for long hours at a time, making you feel that they are not getting the care and attention you would like to give them. I myself have been in that position with Megan and I understand what it feels like not being able to get back to take her for a walk, and having to burden family and friends all the time.

Dogs-N-Joy can help!
Whether it will be a daily walk or just someone to let your dog out in the garden for playtime, or maybe just to pop in to feed them. Either way, your dog will get lots of fuss and attention from me.

Give me a call to arrange a consultation.

I am fully insured and have been police checked.

PLEASE NOTE
Dogs-N-Joy only provides daily services and NO overnight sits or boarding.