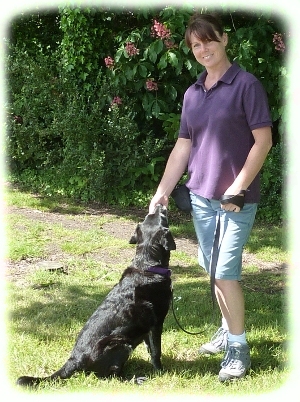 Dogs-N-Joy provides the following Monday to Friday services:

CONSULTATION
Firstly, it's important that I make an initial free consultation to meet you and your dog, and of course for you to meet me. I will discuss your needs and requirements for your pet and take your dog for a short trial walk to assess how he/she walks.

DOG WALKING
DOG/PUPPY FEEDING VISITS
CAT VISITS.

30 MINUTE, 45 MINUTE OR 60 MINUTE WALKS
Dogs-N-Joy provides a one-to-one dog walking service, however, with the agreement of the owners, I will walk up to 3 well behaved dogs at any one time.
Unless previously agreed I will not take your dog on group walks with other dogs, so I can therefore give your dog my fullest attention throughout their walk. Your dog will be walked on a lead and taken for a brisk walk to nearby parks, woodlands and heaths, or if you prefer, walked on their familiar street routes nearby. I will only walk dogs off lead with the owners' prior permission and only when your dog knows me well.

I will provide treats throughout the walk, with your permission, to encourage good behaviour. I will also make sure your dog is dried off and any mucky paws wiped on our return. A fresh bowl of water will always be left and if you wish, I will feed your dog too. He/she will be left happy and content and of course have lots of fuss and praise before I leave.

30 MINUTE DOG/PUPPY FEEDING VISITS
This 30 minute service may suit the older dog that finds it hard to get around and/or prefers a shorter walk, or a young puppy that may need a bit more attention. It can include a 15min walk or I could just let your dog/puppy out into the garden to stretch its legs.

Puppies will be given a short walk once they have been fully vaccinated and longer walks can be introduced gradually. To save your puppy getting confused, I will use the same commands that you use and reward him/her with treats for good behaviour. I can play with him/her or just give your dog lots of fuss and cuddles that it deserves. Any accidents your puppy may have done on my arrival, I will clean up and lay down new newspaper etc.
I will feed your dog/puppy and provide a fresh bowl of water.

20-30 MINUTE CAT VISITS
Includes feeding, cleaning out litter trays and TLC

OTHER SERVICES
For peace of mind, I will leave you a text message or a written note to let you know that all is well with your pet.

SECURITY
Dogs-N-joy will always leave your home safe and secure, making sure that all doors, windows and gates are closed. If required, I can draw the curtains, leave a light on or put your bin out for you.